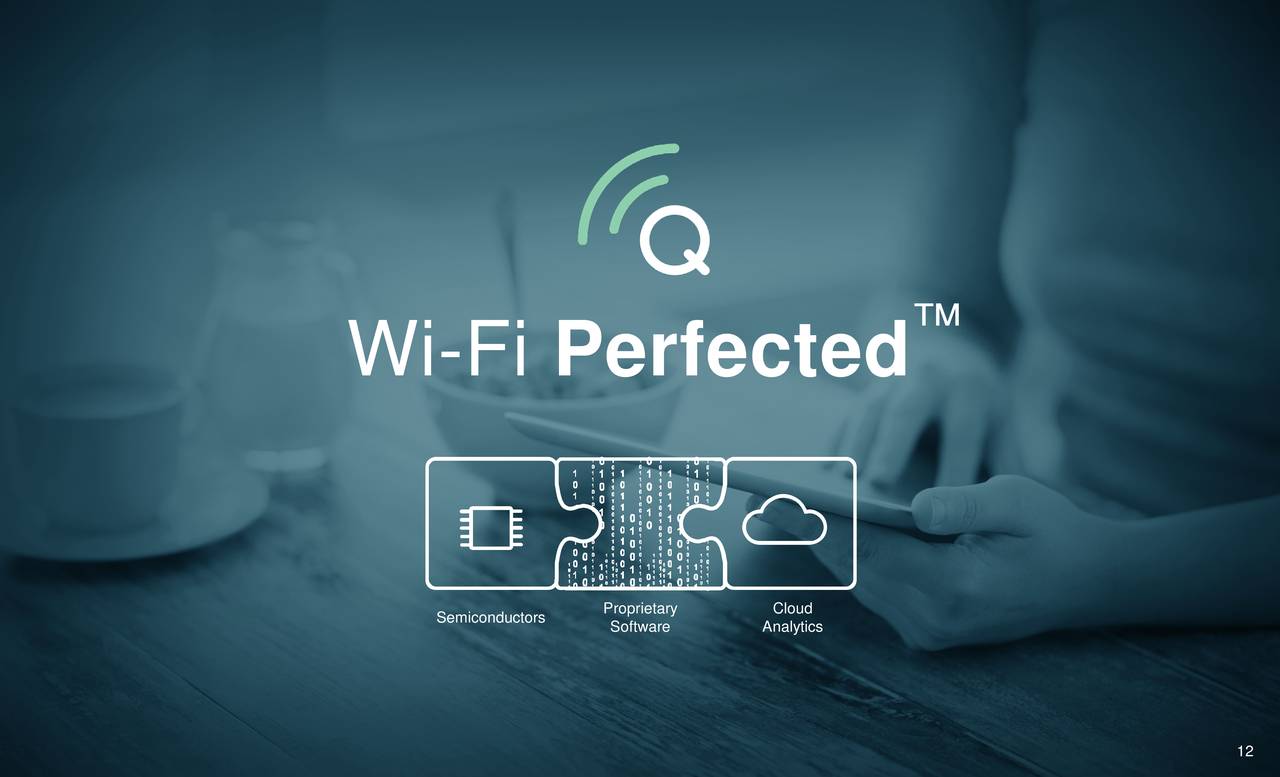 , (GLOBE NEWSWIRE) -- (NASDAQ:QTNA), a global leader and innovator of leading-edge performance Wi-Fi solutions, today announced preliminary unaudited financial results for the third quarter ended .

"We are pleased to report record third quarter results, demonstrating annual revenue growth of 47%, record GAAP EPS of and record non-GAAP EPS of .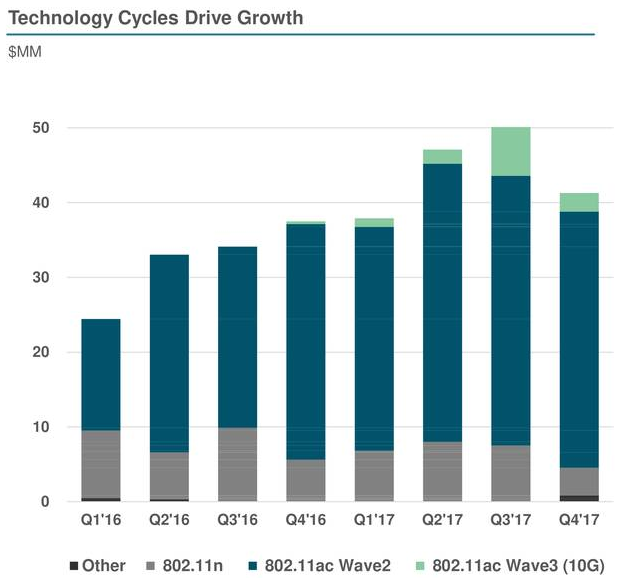 We experienced growing customer adoption of our newer Wave 3 10G products combined with strong shipment levels of our core Wave 2 offerings and legacy 802.11n products," remarked Dr. , Chairman and Chief Executive Officer.
"While in the fourth quarter we anticipate a delay in the deployment of a key service provider program coupled with near-term softness at one other service provider customer, we continue to execute to our Wave 2 and Wave 3 10G development plans and anticipate these deployments to resume in 2018."
Financial Summary
Three Months Ended
Nine Months Ended
,
2017
,
2016
%
Change
,
2017
,
2016
%
Change
Revenue
$
50,108
$
34,105
46.9
%
$
135,084
$
91,577
47.5
%
Gross Profit
24,517
16,858
45.4
%
66,872
45,125
48.2
%
Gross Margin
48.9
%
49.4
%
(50) bps
49.5
%
49.3
%
20 bps
Net income (loss):
GAAP
$
2,802
$
21
$
2,087
$
(1,927
)
Non-GAAP
5,571
1,055
9,534
297
Net income (loss) per share - diluted:
GAAP
$
0.07
$
0.00
$
0.05
$
(1.84
)
Non-GAAP
0.14
0.04
0.25
0.01
(in thousands except per share data, unaudited)
Commentary on the third quarter 2017 financial results by Company management is available at http://ir.quantenna.com/.

Please see the note regarding the use of non-GAAP financial measures below, including a detailed reconciliation between GAAP and non-GAAP information in the tables included herein.
Third Quarter Company Highlights
Record revenue of , representing year over year growth of 47% over the third quarter of 2016 and 6% sequential growth over the second quarter of 2017.


GAAP operating income grew to , and non-GAAP operating income grew to , or 10.3% of revenue.

Non-GAAP operating income reached another quarterly record and grew 78% sequentially over the second quarter of 2017.



Cash from operations totaled , or per fully diluted share, while cash, cash equivalents and marketable securities grew sequentially to , or per fully diluted share.


Announced a partnership with AirTies to offer Internet Service Providers (ISPs) a complete turnkey managed Wi-Fi mesh solution with new classes of differentiated, premium Wi-Fi services.


Released the Spartan AP Booster which offers service providers a cost-effective Wi-Fi performance upgrade for their existing subscriber legacy home gateways without replacing or upgrading the entire gateway.


Entered the Over the Top (OTT) set-top box market with the Zero Memory client solution that offers unparalleled video performance to both STB and OTT clients without the need for incremental memory costs.


Announced that Technicolor has adopted the QV860 chipset in its OWA0130 dual-band multi-function extender, augmenting the coverage of Wi-Fi gateways with a mesh network offering seamless connectivity.


Demonstrated with Cortina Access a Dual 4x4 802.11ax 10G fiber/PON gateway reference platform at IBC 2017 in , bringing best of breed broadband and Wi-Fi capabilities into a single integrated platform targeting mass deployment.


Partnered with SoftAtHome to offer its Smart Wi-Fi software availability on the QV860 chipset, enabling SoftAtHome to offer a high-performance mesh and repeater solution to service providers and OEM partners by levering the 802.11ac Wi-Fi ecosystem.
Business Outlook
Fourth Quarter 2017

Revenue
 $40M to
Gross Margin
GAAP
51.4% +/- 100bps
Non-GAAP
51.5% +/- 100bps
Operating Expense Growth (sequential)
GAAP
Up 13%
Non-GAAP
Up 15%
Net income (loss) per share-diluted
GAAP
 () - ()
Non-GAAP
 () - ()
Gross margin, operating expense and net income GAAP to Non-GAAP reconciliation relates to stock
based compensation expense.

Webcast and Conference Call
management will host a conference call discussing the quarterly results and business outlook following this press release at today.
Individuals interested in listening to the conference call may do so by dialing (877) 239-5585 for domestic callers or (661) 378-9806 for international callers. Please reference Conference ID: 97831720.
An audio webcast and replay will be available on the "Investor Relations" section of Quantenna's website at http://ir.quantenna.com/events.cfm.
Non-GAAP Financial Measures
In addition to GAAP reporting, provides information regarding net income, gross profit, gross margin, and operating expenses on a non-GAAP basis.
This non-GAAP information excludes stock-based compensation expense.
These non-GAAP measures are used by the Company's management for the purposes of evaluating the underlying operating performance of the Company, establishing internal budgets, comparing performance with internal forecasts and goals, strategic planning, benchmarking against other companies, to provide a more consistent basis of comparison and to enable more meaningful period to period comparisons.
These non-GAAP measures are provided in addition to, and not as a substitute for, measures of financial performance prepared in accordance with GAAP.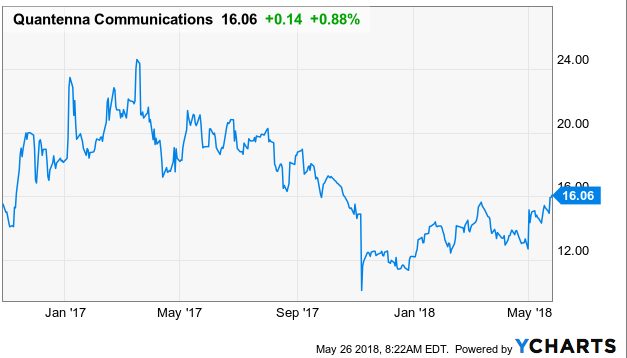 A reconciliation between GAAP and non-GAAP financial data is included in the supplemental financial tables included in this press release.
About
 (Nasdaq:QTNA) is the global leader and innovator of high performance Wi-Fi solutions. Founded in 2006, has demonstrated its leadership in Wi-Fi technologies with many industry firsts in the market.
continues to innovate with the mission to perfect Wi-Fi by establishing benchmarks for speed, range, efficiency and reliability.
takes a multidimensional approach, from silicon, system to software for Wi-Fi networks and provides solutions for OEMs and service providers worldwide.
AZ Technology & Innovation: Quantenna Communications
For more information, visit www.quantenna.com.
Forward-Looking Statements
This press release contains forward-looking statements based on Quantenna's current expectations, including statements regarding Quantenna's preliminary financial results for the third quarter ended , expected future business and financial performance, growth opportunities, product technologies and customer relationships.
The words "believe," "estimate," "expect," "intend," "anticipate," "plan," "project," "will" and similar phrases as they relate to are intended to identify such forward-looking statements.
Unparalleled Performance at play or work
These forward-looking statements reflect the current views and assumptions of and are subject to various risks and uncertainties that could cause actual results to differ materially from expectations. Among the factors that could cause actual results to differ materially from those in the forward-looking statements are the following: risks that may not be able to maintain its historical growth or achieve similar levels of success with respect to new products; quarterly fluctuations in revenues and operating results; challenges developing new and leading edge products on a timely basis that achieve market acceptance; the complexity of the products; ability to accurately predict future revenue and expenses; ability to attract and retain customers and service providers; dependence on a limited number of products and customers; intense market competition; intellectual property litigation risks; risks associated with acquisitions, divestitures and strategic partnerships with respect to as well as third parties; product liability risks; potential cancellation of customer orders; difficulties managing international operations; risks that may not be able to manage strains associated with its growth; dependence on key personnel; stock price volatility; dependence on, and geographic concentration of, contract manufacturers, customers and end customers, assembly and test providers, and other vendors that subject business and results of operations to risks of natural disasters, epidemics, war and political unrest; the cyclical nature of the semiconductor industry; potential changes in tax and other laws affecting Quantenna's business; adjustments to the preliminary financial results reported in this press release and related earnings call announcement and materials for the third quarter of 2017 in connection with completion of the final closing process and procedures and preparation of our Quarterly Report on Form 10-Q; and other factors that are detailed in the Securities and Exchange ("SEC") filings of , which you may obtain for free at the SEC's website at http://www.sec.gov.
disclaims any intention or obligation to update or revise any forward-looking statements, whether as a result of new information, future events or otherwise.

Condensed Consolidated Statements of Operations
(in thousands except per share data, unaudited)
Three Months Ended
Nine Months Ended
,
2017
,
2016
,
2017
,
2016
Revenue
$
50,108
$
34,105
$
135,084
$
91,577
Cost of revenue
25,591
17,247
68,212
46,452
Gross profit
24,517
16,858
66,872
45,125
Operating expenses:
Research and development
15,011
11,162
43,699
32,913
Sales and marketing
3,363
2,172
9,553
5,571
General and administrative
3,735
3,248
11,231
7,802
Total operating expenses
22,109
16,582
64,483
46,286
Income (loss) from operations
2,408
276
2,389
(1,161
)
Interest expense
(103
)
(189
)
(442
)
(414
)
Other income (expense), net
223
(52
)
610
(300
)
Income (loss) before income taxes
2,528
35
2,557
(1,875
)
Benefit (provision) for income taxes
274
(14
)
(470
)
(52
)
Net income (loss)
$
2,802
$
21
$
2,087
$
(1,927
)
Net income (loss) per share - basic
$
0.08
$
0.02
$
0.06
$
(1.84
)
Net income (loss) per share - diluted
$
0.07
$
0.00
$
0.05
$
(1.84
)
Shares used in computing net income (loss) per share:
Basic
34,734
1,157
(1
)
33,907
1,048
(1
)
Diluted
38,525
29,974
38,419
1,048
(1
)
(1) The number of shares reflects the number prior to conversion of preferred stock upon the Company's IPO on

Unaudited reconciliation of GAAP to Non-GAAP Financial Measures
(in thousands, except per share data)
Non-GAAP Income
Statement Items
Three months ended
Three months ended
GAAP
Measure
Stock-based
Compensation
Expense
Non-GAAP
Measure
GAAP
Measure
Stock-based
Compensation
Expense
Non-GAAP
Measure
Revenue
$
50,108
$
50,108
$
34,105
$
34,105
Gross profit
24,517
38
24,555
16,858
9
16,867
Gross margin
48.9
%
0.1
%
49.0
%
49.4
%
0.0
%
49.5
%
Research and development
15,011
1,367
13,644
11,162
231
10,931
Sales and marketing
3,363
416
2,947
2,172
60
2,112
General and administrative
3,735
948
2,787
3,248
734
2,514
Income from operations
2,408
2,769
5,177
276
1,034
1,310
Net income
$
2,802
$
2,769
$
5,571
$
21
$
1,034
$
1,055
Basic shares outstanding
34,734
34,734
1,157
1,157
Basic earnings per share
$
0.08
$
0.16
$
0.02
$
0.91
Diluted shares outstanding
38,525
38,525
29,974
29,974
Diluted earnings per share
$
0.07
$
0.14
$
0.00
$
0.04
Non-GAAP Income
Statement Items
Nine months ended
Nine months ended
GAAP
Measure
Stock-based
Compensation
Expense
Non-GAAP
Measure
GAAP
Measure
Stock-based
Compensation
Expense
Non-GAAP
Measure
Revenue
$
135,084
$
135,084
$
91,577
$
91,577
Gross profit
66,872
123
66,995
45,125
15
45,140
Gross margin
49.5
%
0.1
%
49.6
%
49.3
%
0.0
%
49.3
%
Research and development