Based in Santa Clara, Palo Alto Networks (PANW) scheduled a $220 million IPO with a market capitalization of $2.4 billion, at a price range mid-point of $35.50, for Friday, July 20, 2012

S-1, July 9, 2012

Manager, Joint Managers:Morgan; Goldman; Credit Suisse.
Co Managers: Barclays; UBS; Raymond James.


SUMMARY
PANW is a leader in the hot enterprise network security space. Recently profitable, PANW was hit with a patent infringement lawsuit from Juniper Networks (JNPR) filed in December, 2011, read more here


CONCLUSION
Buy PANW because it is an industry leader replacing legacy systems, has been recently profitable, and the valuation metrics are favorable compared to Splunk and Yelp.
Get ready for the $200 billion IPO shakeup in 2019


INDUSTRY ARTICLES
Positive
Palo Alto next-gen firewall stacks up well, May 7, 2012.

Why Palo Alto Networks Beats Facebook in the IPO Sweepstakes, April 13, 2012

Negative
Tearing away the veil of hype from Palo Alto Networks' IPO, April 18, 2012

The Cult of Palo Alto Networks, January 6, 2012.

BUSINESS
PANW pioneered the next generation of network security with an innovative platform that allows enterprises, service providers, and government entities to secure their networks and safely enable the increasingly complex and rapidly growing number of applications running on their networks.


The core of the platform is a Next-Generation Firewall, which delivers natively integrated application, user, and content visibility and control within the firewall through PANW's proprietary hardware and software architecture.


The platform is delivered in an appliance form factor and includes a suite of subscription services as well as support and maintenance. Subscription services can be easily activated on any of our appliances without requiring additional hardware or processing resources, thereby providing a seamless implementation path for our end-customers

PANW has been recognized as a technology and market leader.
You develop innovative apps. We fuel your growth.
Gartner categorized PANW as a market leader in its "2011 Magic Quadrant for Enterprise Network Firewalls" based on PANW's ability to execute and completeness of vision.
As of April 30, 2012, PANW had more than 7,750 end-customers in more than 100 countries.

MARKET
PANW serves the enterprise network security market, which consists of Firewall/VPN, Unified Threat Management (UTM), Web Gateway, Intrusion Detection and Prevention (IDP/IPS), and Virtual Private Network (VPN) technologies.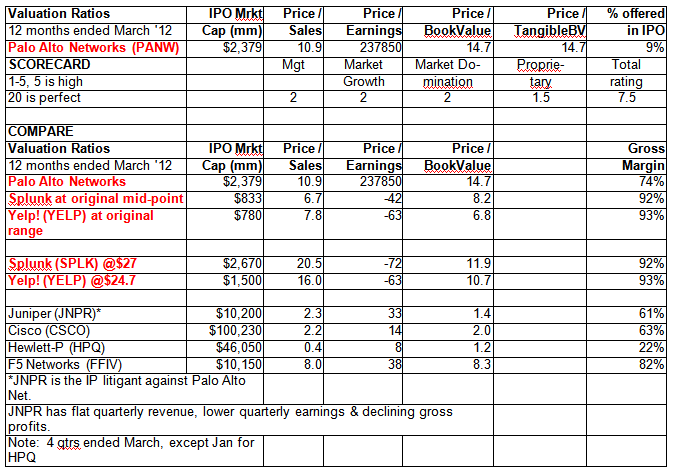 According to IDC, the worldwide enterprise network security market, defined as IDC's Network Security market and Web Security market, was $10.2 billion in 2011 and is projected to grow to $13.4 billion by 2015.

THE MARKET OPPORTUNITY
Legacy systems are on their way out
Modern application categories, such as Web 2.0, social media, and SaaS, are becoming increasingly and often deliberately more complex and unpredictable and are therefore challenging to the legacy firewall.


Because the relationship between applications and ports and protocols is becoming less standardized and less predictable, legacy stateful inspection firewall technology can no longer provide the level of security, control, and intelligence required by organizations to safely enable and control today's applications.


In an attempt to compensate for the limitations of the stateful inspection firewall, three approaches have evolved, including stateful inspection "helpers" (such as web filters and IDP systems), Unified Threat Management* (UTM) appliances, and application control blades that supplement legacy firewalls.

However, these approaches still fundamentally rely on stateful inspection technology at their core and are unable to truly identify and safely enable applications.
Sponsor Center
As a result, by using legacy approaches, organizations have to either unsafely allow or completely block modern applications, such as social media, Web 2.0, SaaS, and other productivity enhancing applications

FIRST MOVER
PANW was the first company to define and lead the industry's transition from the legacy stateful inspection approach to the next-generation firewall paradigm.
PANW believes that its position as a technology and market leader contributes to its ability to maintain and grow a leadership position in the network security market.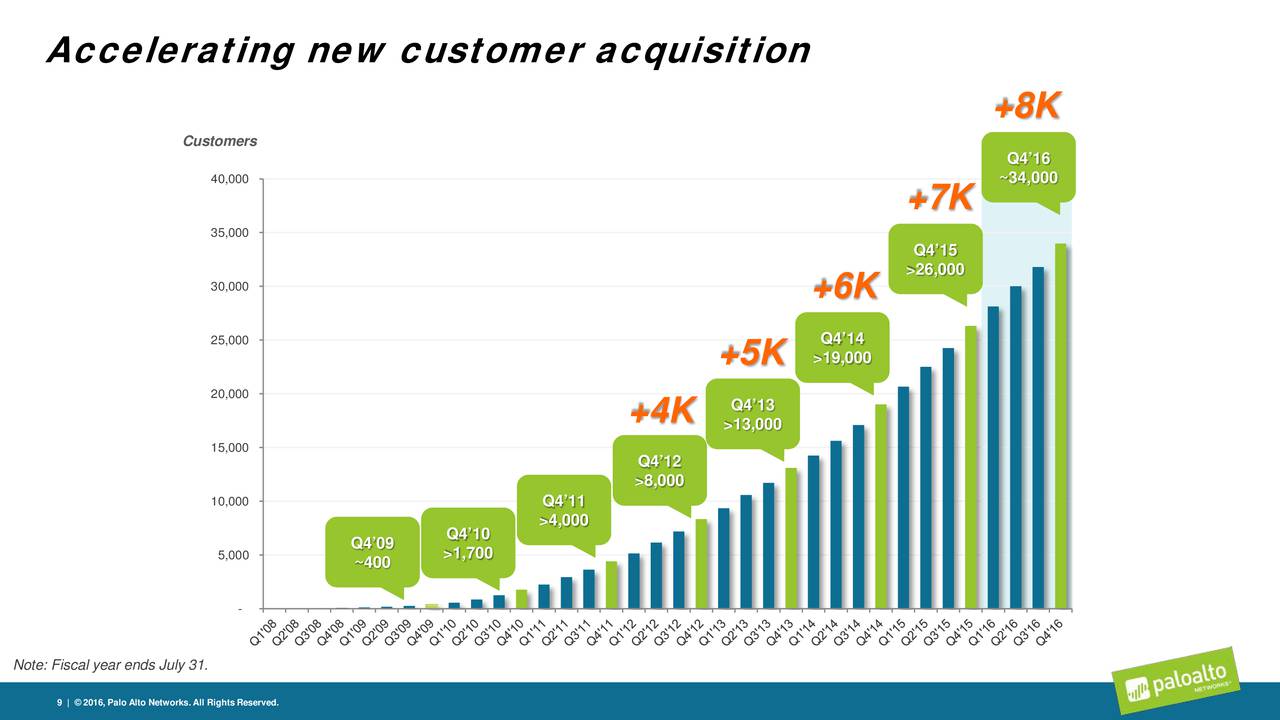 Customer case studies, page 92

CUSTOMERS
Large and Growing End-Customer Base. PANW focuses on serving enterprises, service providers, and government entities.
The end-customer base has increased from 1,800 as of July 31, 2010 to more than 6,650 as of January 31, 2012.
Palo Alto Networks CEO Nikesh Arora on earnings and growth


Customers
PANW sells channel partners to end-customers globally. End-customers are predominantly medium to large enterprises, service providers, and government entities.


End-customers operate in a variety of industries, including education, energy, financial services, healthcare, Internet and media, manufacturing, public sector, and telecommunications.
End-customer deployments typically involve at least one pair of products along with one or more of subscription services, depending on size, security needs and requirements, and network complexity.
The IPO market is slowing already
No single end-customer accounted for more than 10% of total revenue in fiscal 2011.

End-customers deploy PANW's platform for a variety of security functions across a variety of deployment scenarios.
Typical deployment scenarios include the enterprise perimeter, the enterprise data center, and the distributed enterprise perimeter.

MARKETING STRATEGY
PANW redesigned the traditional go to market approach in the network security industry. Key elements of PANW's go to market strategy include:

Targeting New End-Customers through Multiple Initial Insertion Points
PANW can target initial sales opportunities as either a firewall replacement or as a replacement of any of the firewall helper technologies.


Promoting the Platform's Capabilities to Upsell to Existing End-Customers
PANW's architecture enables end-customers to easily activate additional subscription services without requiring additional hardware, software, or processing resources.
Be the first to know.


Leveraging Highly Incentivized Channel Model.
PANW incentivizes accredited channel partners on both the initial product and services sale as well as on subsequent product and subscription sales, by allowing them to purchase products and services at a discount to list prices and then reselling them to end-customers.


INTELLECTUAL PROPERTY
Juniper Networks (JNPR) filed a serious patent suit against PANW in December 2011.
It looks like the law suit severely impacted PANW's product sales in the January quarter.
Lofty Expectations Baked Into Palo Alto Networks Valuation
January product sales were down 10% from the previous quarter on a 1% decline in total revenue, but total revenue was up 16% for the April quarter versus the January quarter.

COMPETITION
Competition includes Cisco Systems, Inc. and Juniper, large companies, such as Intel Corporation (INTC) , International Business Machines (IBM), and Hewlett-Packard Company (HPQ) that have acquired large network security vendors in recent years, such as Check Point Software Technologies Ltd., Fortinet, Inc., and Sourcefire, Inc., and other point solution security vendors.


F5 Networks (FFIV) also is a competitor.
CrowdStrike Holdings IPO: What Investors Need to Know


VENTURE CAPITAL
Pre-IPO shareholders
Greylock, 45%
Sequoia Partners, 22.4%
Globespan Capital Partners V, L.P., 8%

EMPLOYEES
PANW had 589 full-time employees as of January 31, 2012.

USE OF PROCEEDS
PANW intends to sell 4.7 million shares to net $!50 million, allocated to working capital and for general corporate purposes.

Shareholders intend to sell 2 million shares.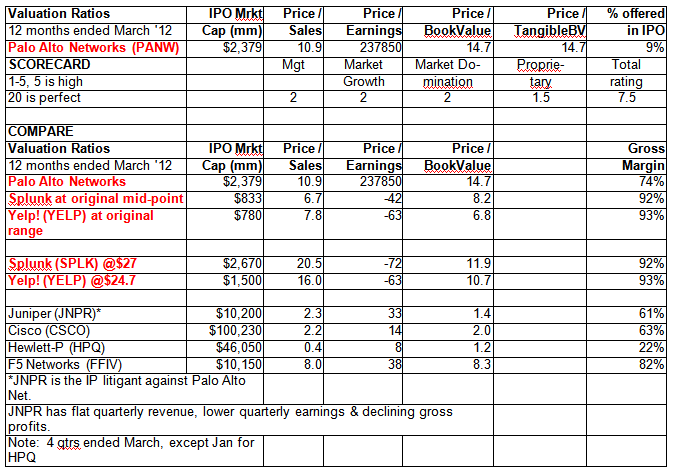 VALUATION