Uber Technologies have chosen the New York Stock Exchange (NYSE) to debut their stock listing. Uber's initial public offering could be one of the biggest in the history of the American stock market due to the sheer size of the company. The stock listing details aren't public yet, but an insider source has stated that Uber's IPO could be one of the five biggest stock market listings of all time.
The company is expected to offload its shares in April.
The ride-hailing giant is currently preparing its documents for the IPO, and soon could be valued at over $120 billion once the IPO successfully goes through, making it the biggest initial public offering for 2019.
According to data analysis from Bloomberg, Uber just needs to offload 16% of its shares in order to qualify for the top five IPO listings of all time, under its current valuation.
Uber will differentiate itself from its biggest competitor in the North American ride-hailing market, Lyft by selecting the iconic NYSE trading floor.
Lyft also plans to do an IPO and will start its trading in NASDAQ, another prominent stock exchange in America.
The Silicon Valley tech giants such as Microsoft, Apple and the parent company of Google, Alphabet traded their shares on NASDAQ, which was once the dominant exchange bourse for tech companies.
NASDAQ suffered a technical problem when Facebook started its listing in the exchange bourse about seven years ago.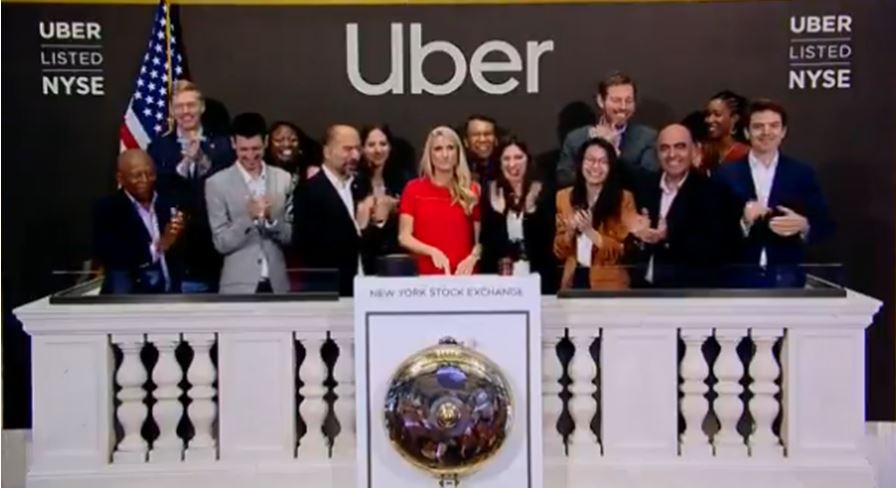 Since that technical glitch, companies have shied away from listing in NASDAQ, instead choosing the NYSE for their stock listings.
Alibaba Group Holding's stock listing happened in the New York Stock exchange in 2014 as well as Twitter's stock market debut in 2013, all after that technical glitch.
Uber's top executives share a link with NYSE.
Nelson Chai, Uber's Chief Financial Officer was once the financial chief of NYSE. John Thain was the Chief Executive Officer of NYSE from 2004 to 2007 and is now a board member of Uber.
Currently, Intercontinental Exchange Inc. is the owner of NYSE, which bought NYSE Euronext for $10 billion back in 2013.
The race towards the IPO is heating up for both Lyft and Uber, as both companies look to raise a sizeable chunk of money for their future operations.
Both these ride-hailing giants filed confidential IPO documents on the exact same date in December with the Securities and Exchange Commission. But Lyft edged out Uber as it started its roadshow this week, meeting investors from Boston and New York to promote their stocks. Even though Lyft boasts about the 39% market share it has managed to capture in the US market, its revenue pales in comparison to Uber's mammoth revenue figure of $11.4 billion in 2018.
Lyft's revenue figures were just one-fifth of Uber's figures.
---
You may also like