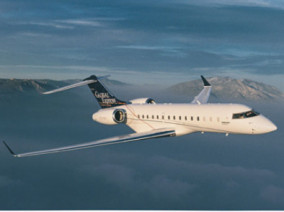 Key management (CEO, CFO, COO) and depending on the firm sometimes a really senior banker goes, but more typically it's an analyst or associate.
The lead-left bookrunner and maybe one or two other 'active' bookrunners (if you have 5 bookrunners, chances are two to three are active and the others are passive) set and host the meetings.
Flying Dassault Falcon 8X Private Jet to Paris
Usually a salesperson from the firm who set the meeting and handles the account you are visiting will attend as well. Almost always it's an industry coverage banker who goes on the road.
Coverage does the heavy lifting, ECM handles updates, IPO / ECM market analysis, and the interaction between sales, research and the coverage/client team (this is really handled by the syndicate desk).
Fanciness depends on the client, the banks, and the size / willingness to incur expense of the issuer. I've done a lot of private jet flying back in my roadshow days, but the types of jets ranged from G4s to tiny little turbo-props.
Like going to a bachelor party in Vegas, roadshows are fun for about a day and a half and then get really old, really quick.