HDFC AMC or HDFC Asset Management Company is a leading company in Mutual Fund Industry. It has come out with its IPO for listing on both NSE and BSE. The IPO has the price band of Rs.1095 and Rs1100 per equity share with minimum lot size of 13 shares.
The Face value of share is Rs.5 per equity share. The issue may be applied through ASBA route which means that the amount will only be blocked in your account and will be debited only if you get an allotment.
The applications below Rs.2 lacs will be considered as retail application however looking at the popularity of issue, it will make sense to apply for only 1 lot in IPO. The Issue open on July 25 and closes on July 28, 2018.
The Issue size is about 2800 crores which implies that at upper band the company will be values at 23000 crores.
It is important to note that company itself will not receive any amount from this IPO and entire IPO proceeds will go to shareholders who are liquidating their stake in the company by about 12%.
Profile of HDFC AMC Limited
HDFC Asset Management Company Limited is a joint venture between HDFC and Standard life Investments Limited which was started in 1999 and is about to complete 19 years of existence.
Company Financials:
HDFC AMC is a leading company in Mutual fund Industry offering 127 schemes in equity and debt investments. Apart from equity and debt, compaby also offer Fixed Maturity Plans, Exchange Traded funds and Liquid Schemes. HDFC AMC is a leading player in Portfolio Management Services, both discretionary and non discretionary along with Advisory Services.
These services are offered to High Networth Individuals, NRIs, Family Offices, Domestic corporate,  Trusts, Provident funds, Domestic Institutions and Global Institutions.
HDFC AMC has got an extensive reach across the length and breadth of country with more than 183 branches and  huge force of 60,000 Independent Financial Advisors (IFAs).
HDFC AMC also distributes products through various National Distributors and Banks.
Outlook of the Firm (as specified in Prospectus)
Maintain its leadership position in the Indian mutual fund industry;
Valuable brand along with strong parentage;
Follow strong investment philosophy and risk management system;
Offers exclusive and diversified product mix distributed via its multi-channel distribution network;
Focus on individual customers and customer centric approach;
Maintain strong financial record with its growth;
Manage experienced, stable management and investment teams.
Objects of the Issue (as specified in Prospectus)
To carry out the sale of Equity Shares offered for sale by the Selling Shareholders;
To enhance the brand image of the firm;
For the corporate purpose.
Process to check the allotment status in HDFC AMC IPO
We need to first check the expected date of Allotment for share in HDFC AMC IPO.
These allotment dates are always pre-specified according to the IPO dates. Let us see the important dates for HDFC AMC IPO
HDFC AMC IPO Issue Opens               : July 25, 2018
HDFC AMC IPO Issue Closes               : July 27, 2018
HDFC AMC IPO Allotment Date         : Aug 02, 2018
HDFC AMC IPO Refund Date              : Aug 03, 2018
Now, we know that HDFC AMC IPO allotment date if Aug 02, 2018.
Full Service Brokers
Next,
How we can check HDFC AMC IPO Allotment status?
To know the allotment status of IPO, we need to visit registrar website which in this case is Karvy. So to check HDFC AMC IPO Allotment status please visit this link.
HDFC AMC IPO Allotment status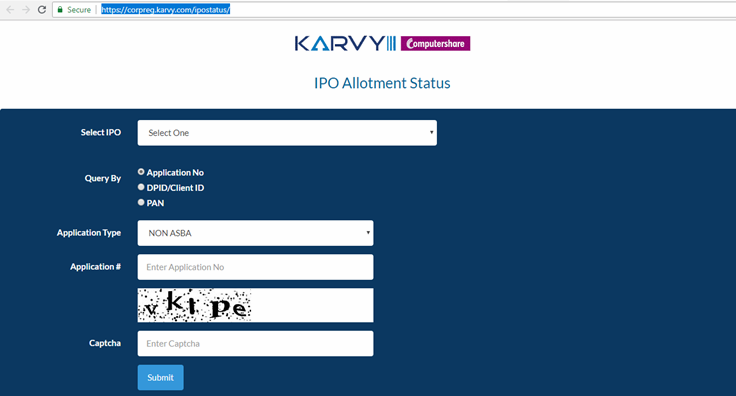 Once you reach this screen, Select IPO and HDFC AMC
Check PAN ( which seems the easiest to me however you may use other two options also, if you remember your DP ID and DP account number or does have a handy photocopy of your IPO application)
Enter you PAN number and fill captcha.
On submitting you will know that whether you are allotted any HDFC AMC equity shares or not.
If it is taking sometime, then please wait patiently as the website may be little slow due to high traffic, coming mostly form HDFC AMC IPO applicants.
Issue Details
Everyone would be very eager to check the status of allotment of HDFC AMC IPO.
The Allotted shares will get credited in your demat account on very next day of allotment. So, keep checking the allotment link and demat account on day of allotment of hdfc AMC equity shares and next day for respective credits to demat on account,
Does it matter is you get allotment or I can buy from market when it get listed.
In this case, it definitely matter.
Looking at the current figure while writing this article on first day of IPO, it is already 50% subscribed. This shows that the there is very high probability of issue getting oversubscribed in a big way.
A highly oversubscribed issue reflects a high level of interest from investor community that implies a big listing gains. So, the expectation of listing price is far more than issue price.
Some valuation parameters that may be seen for understanding or analyzing self action in this euphoria.
Earnings Per Share (EPS): Rs.
HDFC AMC IPO Review !! Shareholders को कितना फायदा !! Allotment 100% मिलेगा
34.96
Price/Earnings (P/E) ratio: 31.32 – 31.46
Return on Net Worth (RONW): 33.41%
Net Asset Value (NAV): Rs. 102.58 per share
When will the HDFC AMC equity shares will get listed on Stock exchanges??
The Equity shares of HDFC AMC will start trading on stock exchanges on August 6, 2018. The listing of shares allotted in IPO will on both the exchanges i.e.
National Stock Exchange (NSE) and Bombay Stock Exchange (BSE).
In case of any issue in allotment, one can contact the registrar Karvy at below stated contact details.
Karvy Computershare Private Limited
Telephone: +91 (22) 3395 8021
Fax: +91 (22) 3078 8584
Email: [email protected]
Website: https://karisma.karvy.com