4.5* out of 5- recommended.
4.5/5 Pros Extremely good value (£409- refurbished), I'm used to 4K (or QHD phone) so it was a little pixelated for me but only when I thought about it or was a little too close to the monitor- it's pretty sharp from distance and the IPS colour and viewing angles are very good.
The screen has a fairly high contrast which I'm not sure is good or bad but in games there's a dark boost mode which fixes the issue if the game is dark. 165Hz is definitely smoother but it honestly wasn't as big of a change as I hoped but maybe I'm just not as frame rate sensitive- G-Sync is a great touch that I do notice when on and off though so although freesync is available for NVIDIA now- you do need a displayport connection and none of then have 165Hz (it's either 240Hz at 1080p or 144Hz).
As for the size, I generally think 27-inches is perfect but my desk does mean I have to look up which hurts my neck after extended periods, or sit up perfectly straight- that's not inherently the monitors fault however.
The USB hub is actually quite nice as well since it came with all the cables you could possibly need the hub stays on even when the monitor is off (by default) which is really useful. The stand is absolutely amazing and assembly was super simple- all in my opinion of course.
Cons My biggest pet peeve was the the DisplayPort port is version 1.2 meaning that I can't watch 4K Netflix while the monitor is connected to the PC. I'm aware that's fairly first-world and perhaps niche but it's worth mentioning since upgrading the port version is near-impossible. A bigger con is the OSD (On-Screen Display) menu and navigation is really unnatural and more difficult than it needs to be.

Changing the brightness is done often enough for it to be hassle for me. Maybe Acer will adopt the joy stick in the future.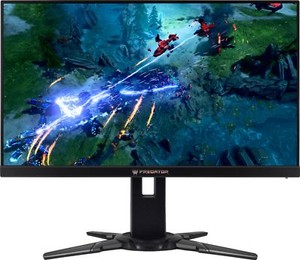 Conclusion Great value, good image quality, perfect size and an amazing stand. Recommended.Read full review
Verified purchase: Yes | Condition: Refurbished